Making Motion Stills & Video Images
Motions stills are magical. They bring photos to life with enchanting movement, combining everything people love about images, videos, and GIFs. While you could use a motion still app to make your own cinemagraphs, you're going to produce much better results with PhotoDirector software. Fortunately, PhotoDirector is simple and free to use.
What is a Cinemagraph?
You've probably seen cinemagraphs without knowing that's what they're called. To put it simply, a cinemagraph is a photo-video-GIF hybrid. The combination of still image and video makes it look like a photograph where part of the frame moves.
To create a cinemagraph, take a still image from video and isolate an area that you want to animate, and the rest of the photo remains frozen. For example, you could have a still forest scene with just a flowing waterfall.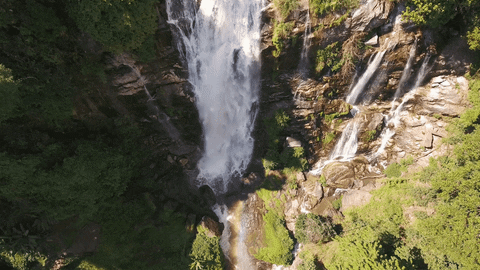 Creating Your Own Motion Stills
If you're interested in cinemagraphs, your first instinct might be to seek out a motion still app. While you could create some basic cinemagraphs with an app, PhotoDirector empowers you to make gorgeous motion stills that you can be proud to show the world. PhotoDirector is super easy to use, so you don't need to spend hours learning how to use a tricky image video maker.
How to use PhotoDirector to create Cinemagraphs in Minutes
1. Select video footage: First, you need to shoot or find some video footage to use. For now, you can start with any video footage that contains movement. Feel free to upload a large file — PhotoDirector lets you use much bigger files than most other motion still apps can handle.
2. Import the video: Now, click File then Import. Choose Video-to-Photo, and then go to Create Motion Still. Select your video footage.
3. Capture frames: Now you'll need to capture the video's frames either manually or automatically. To capture frames manually, click the camera logo at the bottom right corner. To capture frames automatically, click the Auto logo to the left of the camera logo.
4. Choose your frozen image: View the Library on the right side of the screen. Select a frame to be used as the still image.
5. Paint the area to be animated: Select the Brush Tool and your preferred size. Now, simply fill in the area on the photo that you want to be animated. PhotoDirector gives you a level of control and precision that's impossible to achieve with other motion still apps.
6. Customize the cinemagraph: Now you can decide if you want to adjust the speed, add text, or add any other customizations. Click Preview to see the results.
7. Save the cinemagraph: Once you're satisfied with the results, simply click Save and then you can export your GIF.
PhotoDirector makes capturing an image from video and creating a beautiful motion still a breeze. Want to flaunt your latest creations? Be sure to enter our upcoming photo contest! It starts on May 15, 2019, and ends June 12, 2019.
Enter the Dynamic Photo Contest now. Submit your best motion still photos to win!
Download PhotoDirector Free Now
Download PhotoDirector for free on your computer, or as a motion still app for your phone. Enjoy premium features for 30 days.